E-Bike News: Superbowl, Smartphone Kit, Bosch US HQ, E-Cargo Tour, Safety E-Bike, & More! [VIDEOS]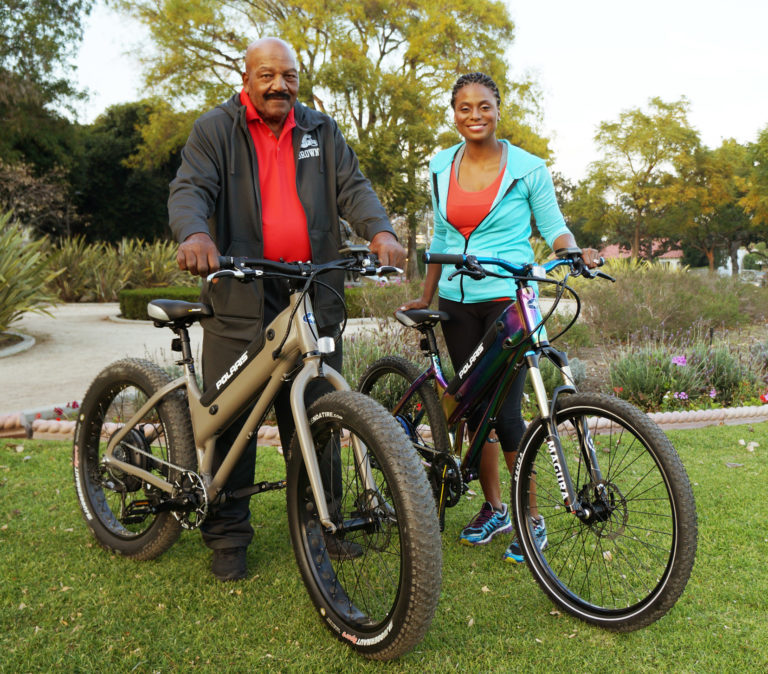 Polaris Electric Bikes will be donating a few of their bikes to NFL legend Jim Brown's Amer-I-Can charity fundraiser that will take place just before the Superbowl in Phoenix, AZ.  Sounds like a great way to get e-bikes in front of a lot of people!
Yuba Bicycles is hitting the road to promote electric cargo bikes!  "The goal is to give parents, small business owners and others the chance to test an e-bike in their community so they can understand how these car-replacing bicycles can improve their lifestyle."  Here is a link to a map of their tour.
Bosch recently had a grand opening of their US e-bike division headquarters in Irvine, California.  The office is headed up by Claudia Wasko.
Dillenger Electric Bikes is an Australian based company that is now establishing themselves in the US market.  They have just announced 2 Kickstarter campaigns.
The first is a wireless smartphone controlled electric bike kit for $566 USD:
And here is more info on this system.
Next up is their economical folding electric bike for less than $400:
And here is more info on this folder.
Some electric bikes offer high tech features that allow you to customize the bikes performance, but here is an e-bike that will warn you if a car gets too close.  The handlebars or seat will vibrate depending on if the danger is in front or behind you.
Similarly, Volvo, Ericsson and POC Helmets have developed a technology that will alert Volvo drivers and cyclist who use the Anti Collision System of each others location.  Here is a brief video demonstration:
A cycling advisor group in the Netherlands is recommending a 25 kph speed limit on bike lanes.  Fast electric 'super' bikes are a safety concern.
A recent report by TechNavio indicates that increased disposable income will be spent on e-bikes in the European market by 2019.
Traveling to London?  Buzz Bike Hire will deliver an electric bike to your hotel!  They also offer guided or self-guided tours of the city.
Batribike and Oxygen have teamed up to build electric bikes in the UK.
Find out if you live in one of the top 25 bike-to-work cities in the US.  My hometown of Eugene, OR is #4 🙂
Here is part 1 of the Gocycle G2 review with a BUNCH of detailed pictures and spec.
It looks like 2015 will be the year of the all-in-one electric bike system as a number of companies will be shipping their finished systems.  Here is a guide to all-in-one electric bike wheels to help with comparing the differences between the systems.
And speaking of all-in-one's, FlyKly is now shipping their Smart Wheel.
The Motostrano electric bike store in San Francisco has changed it's name to EBIKELANE for the new year.
Here is a great way to add electric assist to a wheelchair.  Very cool!
And here is a link to more information on this system.
Checkout the full review of the Energie Cycles 2.6td mid drive electric bike with large 36V 16ah lithium battery!
That's it for now. Stay tuned for more e-bike news.
-Pete
P.S. Don't forget to join the Electric Bike Report community for updates from the electric bike world, plus ebike riding and maintenance tips!
Reader Interactions