E-Bike News: Lightweight Carbon Diavelo, Haibike E-MTB Video, ELF Stories, New Bosch Kits, E-Bike Pizza Delivery, & More! [VIDEOS]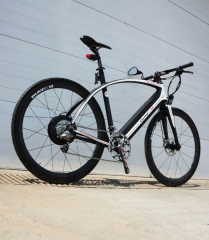 Lightweight carbon fiber electric bikes!  Diavelo has developed the Au2Bahn Carbon electric bike that they claim is the
worlds lightest
(14.5 kg or 32 lbs) speed pedelec (45 km/h or 28 mph).  Looks like a high tech ride!
The LA Times reports that electric bikes are estimated to generate $10.8 billion a year in worldwide revenue by 2020, up from $8.4 billion in 2013.  Also e-bike awareness appears to be on the rise; cool!
I like the title of this article from the Denver Post: "Can 28 million Chinese be wrong? Here comes the e-bicycle"
Electric and cargo bikes were the highlight of the recent ISPO bike trade show in Munich Germany.  "66 percent of visitors said e-bikes and pedelecs were their "top destination" for the show"
Speaking of cargo and e-bikes, Pro-E-bike is a project supported by European Union's 'Intelligent Energy' initiative.  The project aims to promote electric bicycles and scooters for delivery of goods and passenger transport among private and public bodies such as delivery companies and public administrations.
Pizza delivery by Pedegeo electric bike in Laguna Beach and Corona del Mar, California.  A local pizza chain recognizes that pizza delivery by e-bike is more sustainable and fun!
SRAM put together this thought provoking video with commentary on the future of urban mobility.  E-bikes are part of the mix!  If you want to watch the full discussion, here is a link to the video.
Here is a cool story about a baker in Amherst, MA who now uses an Organic Transit ELF to transport her breads to the local market.  And here is another great article on others who have bought an ELF.
Speaking of ELF owners, here is a story from The New York Times about an ELF owner that is on a 1,200 mile trip in his ELF after picking it up at the factory in Durham NC!
While we are talking about recumbent electric trikes, checkout this futuristic design from George Cooper.
Here is my trip report of electric biking to the Grand Canyon with the Ride the Future Tour!  There are a bunch of pictures from the trip and a video preview of what the Ride the Future Tour is like.
And here is my trip report of the electric bike scene in Bend, Oregon.  The e-bike shops, a custom wooden fender shop, and the Cycle Pub.  Enjoy the pictures and videos!
Susi and Ondra from Pedelec Adventures have this trip report of riding eFlow e-bikes in Iceland's city capital of Reykjavik.
A resort in the Noosa region of Australia recently added Pedego electric bikes as a biking option for their guests.  Getting people into e-bikes while on vacation; great idea!
Here is some interesting commentary on the e-bike situation in New York City from Steve Stollman.
Speaking of the law, this is an article from a lawyer on the current e-bike laws in the US.  Interesting read if you would like to know more about this topic.
A blogger and his wife from Southern California have seen the e-bike light!  Well the benefits of an e-bike that is 🙂
Time for some fun!  Here is a video of the new Haibike electric mountain bikes being ridden at Deer Valley, Utah.  Looks like fun!
And here is a vid of Ronnie Renner doing a complete flip on a Stealth Bomber; enjoy!
And here is Olly Parker flipping an AVE XH5 e-bike!
Bosch has announced some of the details of their new mid drive electric bike kits.  Sounds like some great improvements!
BionX has announced that they will have a new motor available with a freehub body that will work with 9/10 speed SRAM/Shimano cassettes.
Here is a new concept for e-bikes.  The Zehus Bike + is equipped with a small battery pack that helps the cyclist at slopes or intensive start/stop maneuvers. When the cyclist is pedaling it automatically recharges the batteries.
HiddenPower is a lightweight friction drive kit that can be quickly added to a conventional bicycle.  They are preparing for distribution in Europe.
Wow, that was a lot of e-bike news!  That's it for now, stay tuned for more e-bike news and reviews.
-Pete
P.S. Don't forget to join the Electric Bike Report community for updates from the electric bike world, plus ebike riding and maintenance tips!
Reader Interactions