E-Bike News: Hydrogen Fuel Cell, Mainstream Media, E-Bike Share Program & More!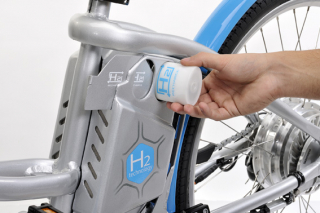 A hydrogen fuel cell powered e-bike called the Gitane Alter Bike uses replaceable (and recyclable)
energy cartridges
that eliminates the need for a traditional charger!  This system would allow you to travel long distances by installing new cartridges.  You wouldn't have to wait for your battery to charge.  Pretty interesting….
A writer for the LA Times recently got a Pedego City Commuter and has realized the benefits of e-bike commuting compared to commuting by car.  This kind of mainstream media is great for getting more people excited about e-bikes.
Speaking of the mainstream media, the Chicago Tribune recently ran an article about electric bikes growing in popularity around the US and the world.
And here is an article about e-bikes in The Street, a financial news website.  I like the title "The Digital Skeptic: Best Battery-Powered Car May Be a Bike"
Ed Benjamin states that "The bicycle industry and not the automotive business has successfully commercialized and made substantial profits from electric vehicles with more than 150 million units in use daily."  It is an interesting article comparing the bicycle industry to the automotive industry.
Speaking of Ed Benjamin, here is an article he wrote on the different types of electric bike batteries and tips for proper battery care.
Ed is on a roll!  Here is his article on high speed electric bikes pushing the legal limits in the US.
Time for some fun; e-biking to bike prom?  Yes, you will have to check it out!
There may be an electric bike share program in Edinburgh Scotland soon.  E-bike share programs could be a great solution for urban transportation.
Should bicyclists and advocates encourage friends and family to use electric bikes and why? I think you will like the answer 🙂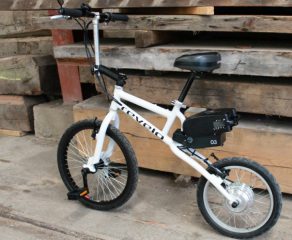 The
Revelo LIFEbike
is an interesting twist on electric bike design.  It has the cranks attached directly to the front wheel.  They currently are selling their bikes through a
Indiegogo
campaign.
Checkout this video of some of the new European electric bikes; one of them has the battery housed in the fork!
Stromer recently opened a new service center in San Francisco, California.
Currie Technologies has an e-bike savings calculator so that you can see how quickly your e-bike can pay itself off if you replace some car trips with an e-bike.
Electric bikes are facing tough times in New York State and New York City but there is hope with 2 measures that could turn things around for e-bikes in the Empire State.
There is some controversy regarding some test results and test methods of e-bikes in Germany.
Here is a guide to cheap electric bikes (~$1,000 and less) that includes economical e-bikes, e-bike kits, and e-trailers.  It also has some tips on ways to find good deals on used e-bikes.
Even though traditional bike sales are down in Italy, e-bikes sales are up!
Alec Burney from E-Bike Kit put together this article on the differences between direct drive and geared hub motors for electric bikes.  This may help you understand which motor is best for your riding needs.
That's it for now.  Stay tuned for more e-bike news!
-Pete
P.S. Don't forget to join the Electric Bike Report community for updates from the electric bike world, plus ebike riding and maintenance tips!
Reader Interactions