Cycling to a New World E-Bike Long Distance Record in Portugal, Cyprus & Beyond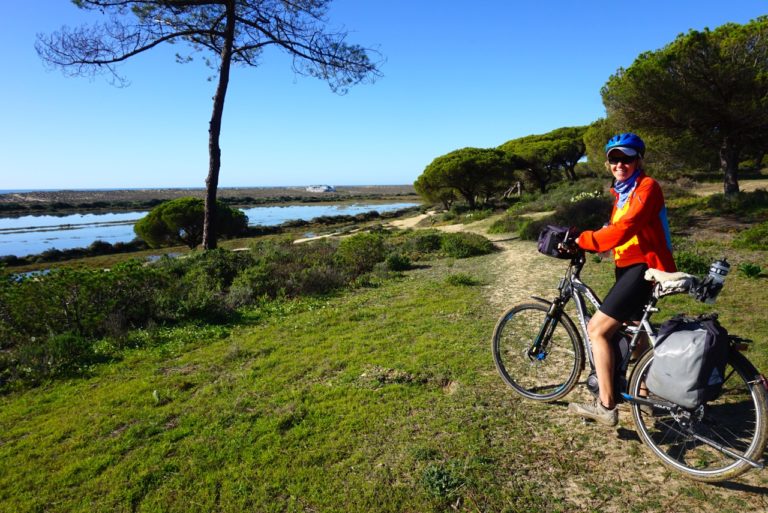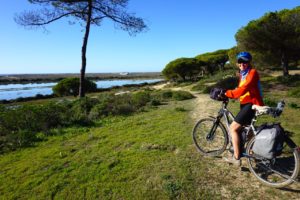 By Gary Corbett
Eight months, 14,300 kilometres and countless adventures after setting out from London in April to set a new world e-bike record of well in excess of 16,047kms, the e-Bike Cycle Tourists are currently in Portugal sitting out the European winter in style.
While the kilometres continue to mount on daily rides on our Haibike Trekking xDuro e-bikes through the amazing southern Algarve region of Portugal, after six months of living in a tent we have both embraced the opportunity to come "home" each day to a comfortable casa (Portuguese for house).
On a daily basis we have alternated riding through the Rio Formosa National Park on the EcoVia cycle track network – which forms part of EuroVelo 1 – with cycling in the stunning hinterland region.
The Rio Formosa National Park is a magnificent patchwork of blue lagoons, white sandy beaches and green islands that cover a 60 km stretch of Portugal's Atlantic Ocean coastline. In a word is an "amazing" place to not only cycle through, but to explore the countless bays, villages and beaches.
Throw amazing weather into the equation with also cycling on near traffic free roads in the mountainous hinterland past almost never ending orange groves, olive farms and century old stone ruins and we certainly haven't needed any motivation to continue clocking up the kilometres every day.
And best of all – despite a torn back muscle that has laid Gary low for the past week – with just 1700 or so kilometres to go, we are well on track to claim the coveted world e-bike world record by the end of January 2016.
But don't for a minute think that that will be game, set and match – far from it. As far as we are concerned claiming the world record is just round one, with round two at least 23,000 kms by August 2016 and round three – well, we will just have to keep that under wraps at this stage!
There is, however, one annoying aspect to our e-bike record attempt that seems to be the topic of never-ending discussions – our visa situation.
The topic of a previous blog, as Australians under the terms of the Schengen Agreement we can only stay in mainland Europe for 90 days every 180 days. While we would love to be able to continue cycling in Portugal and southern Spain until April/May when the weather warms enough to be able to continue our nomadic travels, unfortunately this is not possible due to the Schengen visa rules.
As a result we have been looking for a suitable destination outside of the Schengen area in Europe to sit out 90 days from early February until we can legally return to start cycling again.
With the UK ruled out – too cold and too expensive – and Croatia, Bulgaria, Montenegro, Bosnia and Herzegovina, Serbia, Ukraine and Romania also ruled out for various reasons, all roads have led to the one destination that ticked all of our boxes – Cyprus.
But with every solution found comes more problems and that is very definitely the case with our decision to sit out our Schengen exclusion period in Cyprus.
While the island nation in the east of the Mediterranean is a non-Schengen country, has a perfect climate, is a fascinating destination to cycle around and is relatively cheap to live for three months, the big problem for the e-Bike Cycle Tourists is the worldwide ban on flying with electric bike batteries.
To cut a long story short, there is no way we can take our Haibike e-bikes to Cyprus due to the prohibitive cost and hassle of separately transporting our e-bike batteries.
Given that we do not want to stop cycling for three months, we have opted for the next best option – a generous offer from Cyprus E-Bikes to sponsor us for the use of two e-bikes during our time in Cyprus.
So there you have it. Not only have we found a perfect location to sit out our Schengen exclusion period, but we will be able to continue to add to our overall kilometre count while we are there.
In the meantime we are loving every moment of our Portugal experience and are eagerly waiting for the not-too-distant day when we will finally claim the e-bike world long distance record … bring it on!!
Thanks to Gary Corbett for this update on their adventures!
P.S. Don't forget to join the Electric Bike Report community for updates from the electric bike world, plus ebike riding and maintenance tips!
Reader Interactions