Cool Bike Infrastructure: Solar & Glowing Paths, Super Bikeways, Underground Parking & More! [VIDEOS]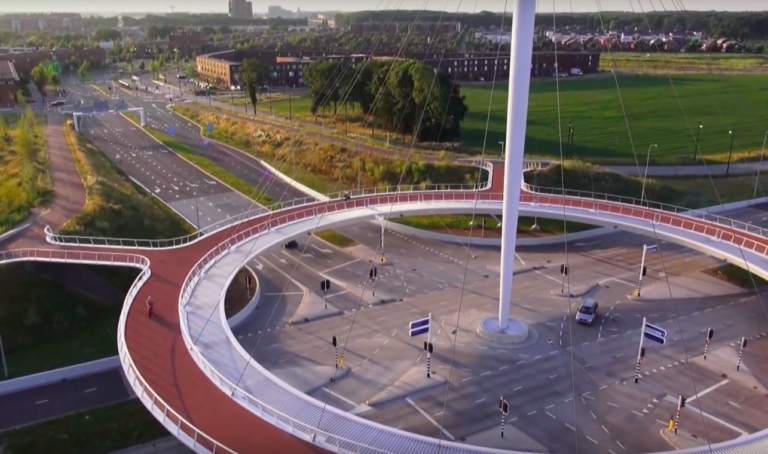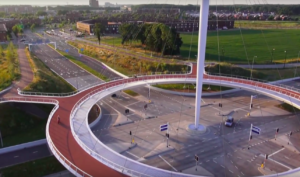 There is always something new with electric bike technology but it is also exciting to see what is happening with improvements in bicycle infrastructure.
You might initially think of protected bike paths that separate auto traffic from bike traffic.
People for Bikes put together this video on the benefits of protected bike lanes:
Or you might think of a "bike box" at an intersection that helps riders at busy intersections. Here is a good description bike boxes from the City of Bellingham, Washington.
While those are great and very helpful for safer cycling, there are some innovative new additions to bicycle infrastructure like; a solar bike path that creates electricity, glow-in-the dark paths, an elevated roundabout, underground automated bike parking, bike super highways, a bike/ped & mass transit bridge, and more.
Enjoy!
Solar Bike Path
This is a solar bike path that provides a large surface area of solar panels that feed electricity into the grid to power nearby lighting and homes.
Glow-in-the-Dark Bike Paths
Here is a glow-in-the dark bike path being tested in Poland:
And here is a closer look at the Starry Night inspired glowing bike path in the Netherlands:
https://youtu.be/ZYpO2pJ6afM
Elevated Bike Roundabout
The Hovenring is an elevated roundabout that provides a safe route for cyclists and pedestrians around a large intersection. It looks like it would be fun to ride!
Bike Super Highway
Germany is working on building a bicycle super highway or "bike autobahn" that will be 100km long connecting 10 cities and 4 universities and it could potentially take 50,000 cars off the streets.
https://youtu.be/50qihoXZ-ww
This article by The Guardian underscores that electric bikes enable riders to ride further and faster and they will be a great way for more people to use this super bikeway.
Better Bike Ways in New York City
New York City is a busy place and it is great to see improvements in bicycle infrastructure in a city that is all about multi-modal transportation.
Underground Automated Bike Parking in Tokyo
Space is precious in many areas of Tokyo so they developed an automated underground bike parking machine. It is a very innovative system!
Bike, Ped, & Mass Transit Bridge in Portland, OR
Portland, Oregon has invested a lot into bicycle, pedestrian, and mass transit infrastructure. The Tilikum Crossing bridge is a good example of this because it is designed only for bike, pedestrian, electric street car, trains, and buses. No automobiles allowed.
And here is an interesting bit about Portland's bike infrastructure: "7.2% of commuters go by bike. This is the highest percentage of bike commuters for a large American city and means more than 17,000 workers in Portland choose to bicycle…….$60 million is the estimated replacement value for Portland's bicycling infrastructure in 2008. That's the approximate cost for one mile of urban freeway." Here are more Portland bike facts. 
London Cycle Super Highway 7 
Here is a look at a bike super highway network being developed in London:
Protected Intersections
Protected bike lanes are great but what if there were protected intersections……
That's it for now. Stay tuned for more innovations in bike infrastructure!
Is there some cool bike infrastructure in your city or town? Please share in the comment section below.
Thanks
-Pete
P.S. Don't forget to join the Electric Bike Report community for updates from the electric bike world, plus ebike riding and maintenance tips! 
Reader Interactions