Charged Up! Interbike Electric Bike Media Event with Outdoor Retailer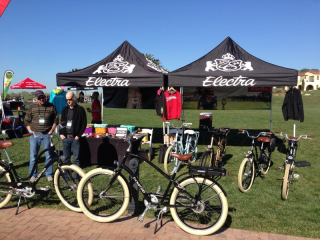 This is a press release from Interbike.
Interbike and Outdoor Retailer, two of the largest retail sports trade shows in the world, announced today that they've joined forces to launch Charged Up, a new immersive media event designed to bring the latest in electric bike innovation and active outdoor technology to the attention of the non-endemic consumer and technology print, broadcast and online media.
Charged Up will continue to bring awareness to the emerging ebike market, building off the success of Interbike's Electric Bike Media Event in 2013. Outdoor Retailer will invite brands and products that define the growing trend toward incorporating technology into outdoor adventures.
Today's outdoor and e-bike technology provides easier access, comfort and safety to more Americans than ever before. This event will feature portable technology brands and products, providing a unique opportunity to amplify their stories to the attending consumer media.
Interbike and Outdoor Retailer plan to limit the opportunity to 25 brands from these categories to participate in this exclusive media opportunity. Sponsors will have the opportunity to invite key retailers to join the event on the afternoon of the final day providing additional value to this important event.
The event is supported by PeopleForBikes, the Outdoor Industry Association and Bicycle Retailer & Industry News. These organizations will be presenting historical and trend data as it relates to the ebike and outdoor technology categories.
Charged Up will take place May 14-15, 2014 at the Crystal Springs Resort in Hamburg, NJ. The setting is perfectly suited for intimate product discussions and to take the technology outdoors and on the trail, and is strategically positioned near New York's national media outlets.
Invited journalists will have an opportunity to truly understand the advancements and functionality of e-bikes, portable power, safety, and fitness gear along with innovations in wearable technology.
"Applied technology coming out of both the bicycle and outdoor industries at Interbike and Outdoor Retailer is incredible," said Kenji Haroutunian, VP/Show Director, Outdoor Retailer. "These products enhance the outdoor experience, making it more fun, safe and social.
By gathering trend leading brands in one experience the event will make it easy for journalists to understand and experience and experience the fun products coming out of our industry, with the ultimate goal of having them translate that experience to their individual media audience."
Interbike and Outdoor Retailer have retained the services of Truth Be Told Public Relations, a premier public relations, marketing and event management firm with offices in New York and Los Angeles.
Truth Be Told Public Relations is charged with bringing journalists from non-endemic, top tier consumer, technology and financial media outlets—print, online and broadcast, targeting titles such as Wired, Esquire, Mashable, Vogue, FastCompany, USA Today, and Instyle.
Companies interested in one of the limited number of sponsorship opportunities should contact
Andria Klinger, Sales Director at 949-226-5745 / [email protected] or Krista Dill, Sales Manager at 949-226-5728 / [email protected] , for more information.
About Interbike and Outdoor Retailer 
Interbike is the largest bicycle trade event in North America, bringing together manufacturers, retailers, industry advocates and media to conduct the business of cycling.
Established in 1982, the show gathers more than 1,200 cycling-related brands, over 25,000 total attendees annually and is considered one of the most important global trade events for the bicycle industry.
Outdoor Retailer (OR) brings together retailers, manufacturers, industry advocates and media to conduct the business of outdoor recreation through tradeshows, product demo events and web based business solutions. OR also provides and promotes retailer education, advocacy, responsibility and critical face-to-face business initiatives within the outdoor industry.
Consistently named among Trade Show News Network's 25 fastest-growing tradeshows by attendance, Outdoor Retailer connects approximately 50,000 attendees on a semi-annual basis for its Summer and Winter Market shows, and thousands more through its year-round online resources and platforms.
Interbike and Outdoor Retailer are two of 90 premier trade events owned and operated by Emerald Expositions, a leading producer of large business-to-business tradeshows.
Emerald Expositions, based in San Juan Capistrano, CA produces shows and conference events globally that connect more than 335,000 buyers and sellers across nine diversified end-markets.
Markets covered include general merchandise, sports, hospitality and retail design, jewelry, photography, decorated apparel, building, healthcare and military.
More information about Interbike and Outdoor Retailer can be found at:
MEDIA CONTACTS: 
Justin Gottlieb
Communications and PR Director – Interbike
949-226-5754
[email protected]
Kate Blom-Lowery
Communications and PR Director – Outdoor Retailer
949-226-5799
[email protected]
Reader Interactions