Accommodation Choices on a Long Distance e-Bike Tour
By Gary Corbett
With the e-Bike Cycle Tourists 10 months and 18,500kms into their ongoing e-bike long distance adventure in Europe and the UK, the question we get asked more than any other is "how do you find suitable accommodation every night".
While we are pleased to report a number of people have contacted us to say that our exploits have inspired them to set off on their own e-bike long distance cycle tour, it seems many, many others are put off by the thought of not being able to find accommodation to their liking at the end of a long day's e-biking.
But rest assured there is nothing to worry about, there are many accommodation choices on a long distance e-bike tour.
With a bit of forward planning in conjunction with the adoption of an "everything will work out fine" attitude, not only will you be able to track down suitable accommodation each night, but you will enjoy the trip of a lifetime along the way.
During our 10 months on the road so far we have enjoyed a variety of accommodation types ranging from campgrounds to wild camping, AirBNB bookings, Warmshowers hosts, door knocking, new friends we have met along the way and hostels.
Given the daily need to be able to hook up to mains electricity to charge our Haibike xDuro Trekking e-bike batteries, the vast majority of our nights have been spent in campgrounds sleeping in our Vango Omega 350 tent.
While, clearly, it would be a different story if the journey you were contemplating was through the wilds of Africa or Outer Mongolia where campsites are basically non-existent, it is fair to say 99.9% of people contemplating their first e-bike tour would pick a much "easier" location – as we did – like Europe, the UK, Australia or the USA.
In these countries suitable campsites abound and except for the middle of the peak tourist season it is just a case of arriving, booking in, setting up you tent and plugging in your e-bike batteries before enjoying a memorable night camping under the stars.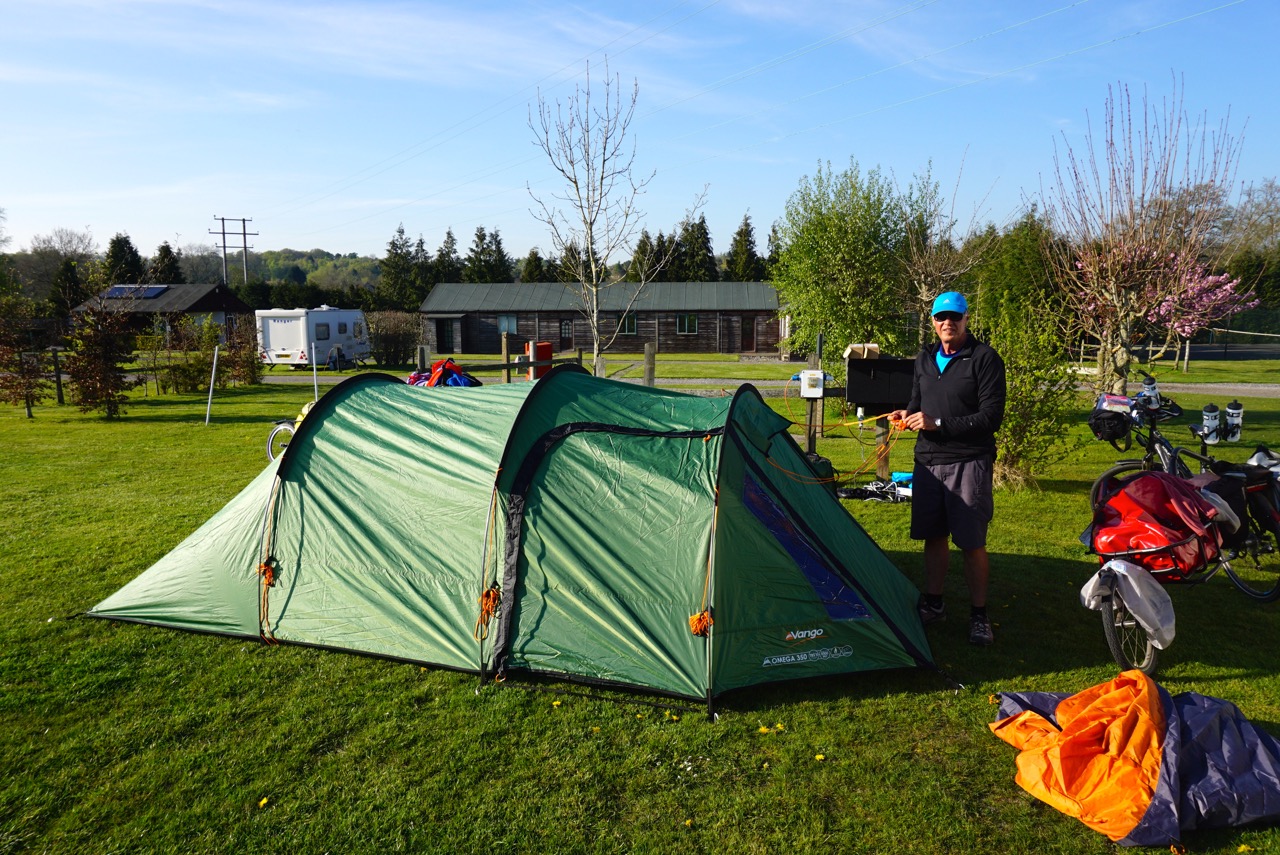 It is important to note at this point that without exception we have never pre-booked a site at a campground.
Sure, you can book, but just remember that puts enormous pressure on you to actually arrive at your chosen destination after a day of unexpected surprises!
While we did run into difficulties in Holland on a couple of occasions during the middle of the summer holidays to find a place to call home for the night – and did at times refuse to pay the exorbitant fees asked – we nonetheless always found something.
Basically when we start cycling each day we have absolutely no idea where we will camp that night.
Given the vast number of variables that can occur on a daily basis such as bad weather, hilly terrain, mechanical trouble, countless stops to talk to people or to take photographs or any one of 1001 other reasons, from day one we found it was impractical to look too far ahead on the map.
As such we always wait until 2 to 3pm in the afternoon before closely studying our maps to see what possible campsite locations lay ahead.
From our experiences there is almost always an obvious choice, or at the least a destination where you can start asking people for directions to the nearest campsite.
The only time this strategy fell apart was twice in England at Seaham and Bradford on Avon and on three occasions while cycling along the Wild Atlantic Way on the west coast of Ireland.
On each occasion that was when we unveiled plan 'B'.
At Seaham after arriving late in the day tired, dispirited after getting hopelessly lost and with daylight running out, we were shocked to discover the campground we had been told was in town was in fact at least another 30 kilometres away.
Not prepared to cycle in the dark and too tired to contemplate the journey anyway, all thoughts of recharging our e-bike batteries that night were put on hold until the next day while we started the search for a suitable wild camping site.
After initially ruling out a very nice church cemetery (it wasn't the fact that it was a church cemetery that put us off, but the surveillance cameras), we eventually settled on an overgrown lane next to a park as our campsite for the night.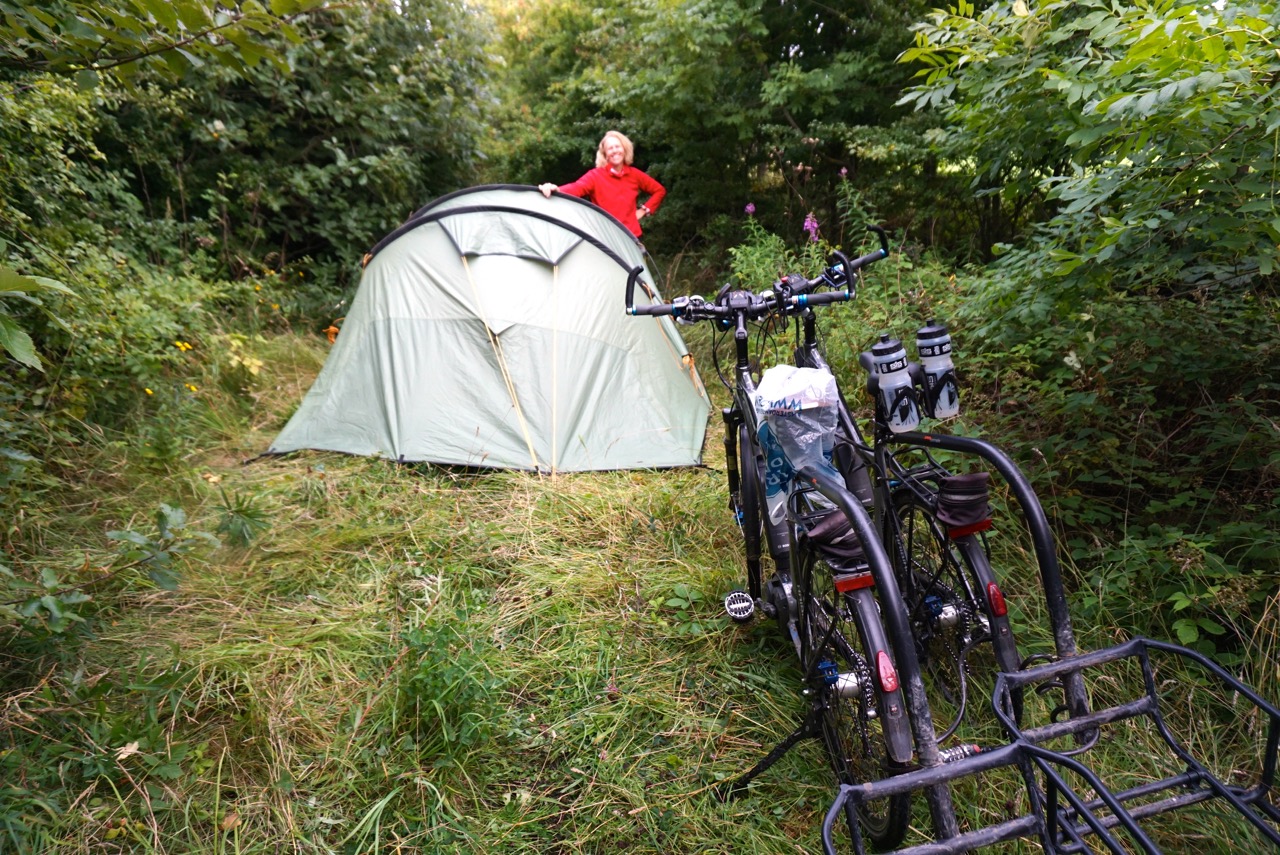 The result – for Gary at least – was a comfortable night's sleep. It is best to ask Rachel what she thought of the dog that spent a good part of the night trying to tunnel under a boundary fence to 'meet' us!
At Bradford on Avon it was almost a repeat story after a campground we had been assured would welcome us turned out to have closed down five years earlier. Once again with daylight running out we resorted to plan B and asked a gentleman returning to his car after walking his dog if he knew of a place to camp.
"Sure," he said. "Follow me." So that is exactly what we did – followed him in his car on our e-bikes as he weaved his way through a myriad of back streets to a lovely campsite.
In Ireland, given that we were there in October, our biggest problem was the fact that many campsites had already closed down for the season.
So what did we do? With absolutely no campsites available we knocked on doors with great success every time.
When you are cycle touring – especially when you are riding e-bikes – you have a great story to tell and without exception everyone we asked was only too happy to help out two crazy Aussies – in their minds at least – with a spot to camp for the night.
Aside from camping other accommodation options have been through people we have met along the way, AirBNB and the Warmshowers website, a community for touring cyclists and hosts.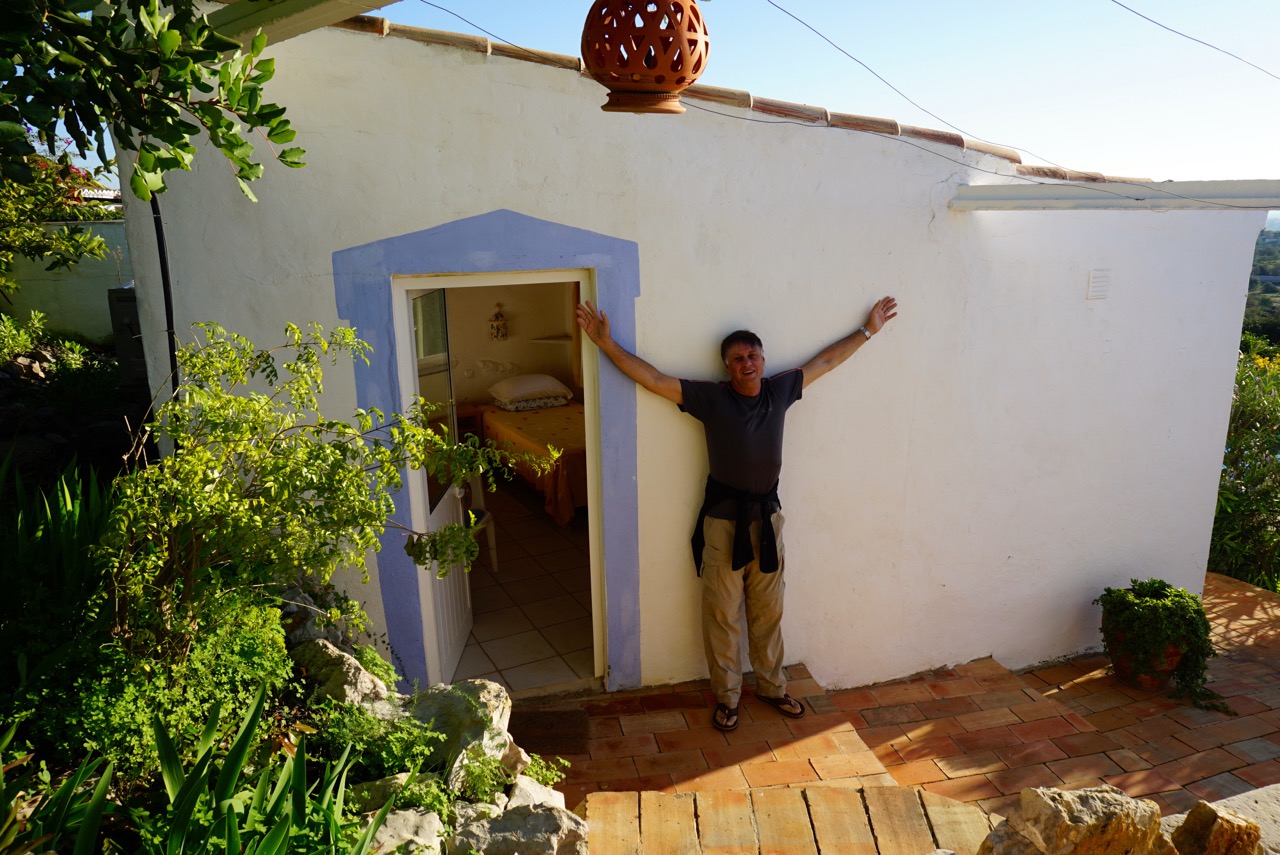 In Portugal and Cyprus we have used AirBNB with great success; while we utilised Warmshowers to find a perfect accommodation solution in Surrey in England prior to starting out on our trip.
On nearly every occasion the people we have met have become great friends, how good is that!
So there you have it. If you are considering a long distance cycle tour and are concerned about finding suitable accommodation, stop worrying, and start planning your trip in detail.
What you will discover is an addictive way to travel, you will meet many, many wonderful people and best of all you will have an experience of a lifetime on the best form of transport possible – an electric bicycle.
Thanks to Gary Corbett for this update on their adventures!
P.S. Don't forget to join the Electric Bike Report community for updates from the electric bike world, plus ebike riding and maintenance tips!
Reader Interactions