1UP USA Super Duty Double Bike Rack Review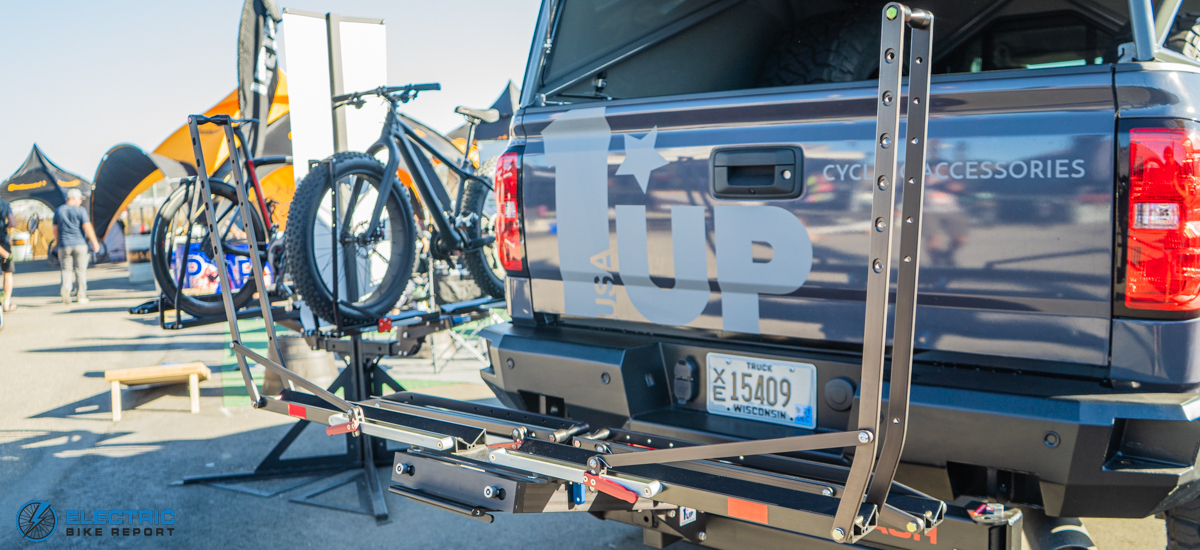 Based out of Wisconsin, 1UP USA is a bike and e-bike rack manufacturer that we had the opportunity to meet up with at the 2021 Sea Otter Classic, in Montery California. We spoke with Robbie Lange, the owner of 1UP USA to learn about their fully aluminum bike racks and what makes them so unique.
Lange walked us through 1UP's Super Duty Double bike rack, which, in the two bike variation, has one of the highest carrying capacities of any rack on the market. Each tray is rated for e-bikes up to 75 lbs with a total carrying capacity of up to 225 lbs. You can choose between a silver finish or black, and the rack's carrying capacity can be expanded to three bikes or four — though adding additional trays will reduce the bike weight it can handle. The black model is $675 and the silver rack is $625.
The full aluminum design and 1UP USA's ratcheting clamp mechanism makes for a stable and secure design that protects your bike's paint by holding onto the wheels instead of the frame. The Super Duty Double also has a 15-degree incline, so each additional bike has higher ground clearance than the prior. The standard Super Duty Double can fit tires up to 3.1 inches in width, but 1UP also has a well-engineered solution for those with electric fat bikes.
"Anything beyond 3.1 inches would require a fat tire spacer kit, which is just an additional accessory." Lange said.
1UP USA Super Duty Double bike rack: Features and Overview
1UP USA's racks are very mechanical and utilitarian in both their look and use. Everything is made of metal from the clamping arms to the trays and the rack's main body. It frankly looks overbuilt; a nice characteristic for those who may be looking to load a very heavy e-bike onto the back of their car.
"The rack is very fastener-rich in design, it's super quick and easy. We have a spring loaded cam-lock mechanism that basically opens up the arms and then you'll set your bike in there (the rack tray)," Lange said.
The design allowing riders to cinch down the rack onto the tires instead of the frame is a huge plus for not putting additional frame wear and tear on the bikes you're loading. 1UP played a large part in popularizing this style of bike rack, and now most every major rack manufacturer builds a model with a similar design.
"There's no fixed point where the bikes have to sit, so you can push them to the left and right of each other to basically make sure (the bikes) aren't having any interference with each other," Lange said. All 1UP USA racks are made in the U.S. and constructed out of aluminium. They come with a lifetime warranty and larger orders also include free shipping.
1UP USA is a brand that screams quality. Their bike racks are made with no shortcuts and a lot of thought put into them. It's the type of bike rack designed to be the last you'll ever need to buy thanks to an all-metal construction and its overbuilt design. While 1UP USA has long been a tray-style bike rack specialist, the Electric Bike Report team got a sneak peak at Sea Otter of some new products they've got coming down the pike, including a hanging-style bike rack.
Reader Interactions