1,000 km Completed – 15,000 km to Go. E-Bike Cycle Tourists in France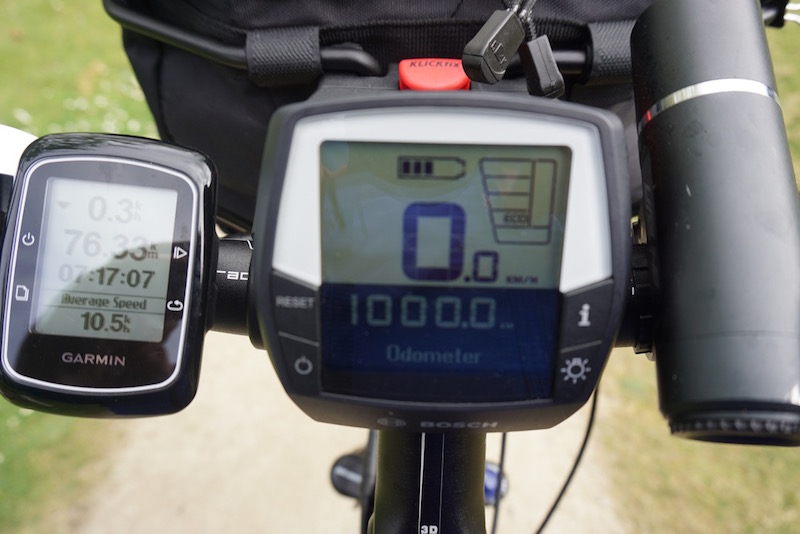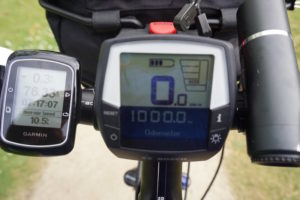 By Gary Corbett.
In more ways than one it has been a big week for the e-Bike Cycle Tourists.
Not only did we clock up our first 1000 kilometres of our overall target –now 1381 kms – to cycle in excess of 16,047 kms to set a new world e-bike long distance record, but we also made the much anticipated ferry crossing from Plymouth in the UK to Roscoff in France.
After two weeks of being overawed by the scenery as we cycled through the south of the UK from London to Plymouth, we have found that cycling in Brittany over the past seven days has in many ways been a very similar experience.
To be honest other than obvious differences such as language, cycling on the opposite side of the road and the better exchange rate we are getting in France, there are few discernible differences.
The scenery is amazing, the people are just as friendly– despite the obvious language barrier in France – there are just as many big hills to cycle up, the Kennet and Avon Canal in the UK and the Canal de Nantes a Brest in Brittany – which we are currently following – are remarkably similar and the generosity of complete strangers continues to amaze us.
With three weeks of experience living on the road under our belt, our days are starting to follow a familiar routine and, fortunately, our bodies are finally becoming accustomed to cycling for up to eight hours per day.
We always believed it would take two-plus weeks to get used to the rigours of cycling for such long hours every day and it appears we were pretty much spot on.
On the e-bike front we finally feel that we have mastered the art of riding our Haibike Trekking xDuro e-bikes economically to extend battery life. Over the past two days we have achieved a range of 70-plus kilometres before a battery change was required, although this could also be due to the fact that we are getting fitter and able to cycle for longer periods in 'eco' mode.
We have also just about mastered the art of parking the e-bike – Tout Terrain cycle trailer combination by jack knifing the trailer, with the number of times one or another of the entire rigs falls over dropping dramatically as a result.
While we always planned to follow the EuroVelo cycle route network wherever possible, we have found that at times in Brittany it has been just as enjoyable to ditch the cycle tracks alongside the Canal de Nantes a Brest for stints on local roads.
In many ways it is a juggling act between making the most of the relative safety of cycling on a traffic free cycle track to wanting to see some different scenery.
While the scenery along the canal is stunning, it can tend to be somewhat monotonous after a few hundred kilometres, with the result that there have been times when we have felt we were missing out on the 'real' French countryside and small villages.
The solution has been to keep a watchful eye on our maps, with opportunities to cycle along small mostly traffic free roads snapped up.
After a 100km day today (May 12) we are now camped in Rohan, 200 kms from Nantes where we will leave EuroVelo 1 to cycle across France along EuroVelo 6 through the Loire Valley and onto Switzerland and beyond.
This will be the third time I have visited the Loire Valley and I must say I can't wait to reacquaint myself with the area I consider to be the most beautiful I have ever had the pleasure of cycling through.
With plenty of time to savour everything the Loire has to offer, the plan is to set up base at different locations for three of four days at a time to be able to enjoy cycle touring each day without having to tow our cumbersome – and heavy – cycle trailers.
This will mean we will be able to cycle further each day and will not have to set up camp each night on our return.
With the weather finally starting to warm up after a freezing start to our journey in the UK and with the flat cycle paths of the Loire beckoning, the expectation is that we will continue to chip away at the kilometres required to claim that elusive world record for the longest ever e-bike journey.
Thanks to Gary Corbett for this update from their electric bike tour!
Now, checkout some of these other e-bike touring stories:
European Electric Bike Tour: Not All Who Wander Are Lost – Part 1
Electric Bike Touring to Eurobike [VIDEO]
Electric Bike Touring: 3,300 Miles from Seattle WA to Washington D.C. on a Pedego Interceptor
Electric Bike Touring: 80 Year Old to Ride 2,500 Miles on an Easy Motion NEO Jet!
Electric Bike Touring in Croatia, Austria, & Italy's Dolomites
E-Biking to the Grand Canyon with the Ride the Future Tour Crew! [VIDEO]
Tour de Mongolia – A Solar Powered Electric Bike Tour! Lots of Pictures.
Electric Bike Tour In The Nepalese Himalaya!
Iceland Challenge Short Film: Electric Bike Touring in Iceland! [VIDEO]
An Electric Bike Tour Across the USA!
Are you interested in e-bike touring? Where would you like to ride?
Please leave your comments in the section below.
P.S. Don't forget to join the Electric Bike Report community for updates from the electric bike world, plus ebike riding and maintenance tips!
Reader Interactions